Felicia Nel gave birth to her baby girl, Alyssa – with clubfoot. She was devastated.
"We only discovered it once she was born – It was positional because I'm only 1.5m tall and she was a very big baby, 4.2kgs so by 8 and a half months she had no more space to move and stayed in one position with her foot tucked under the other…" says Felicia.
Felicia blamed herself – she felt awful – as if it were her fault. She didn't even know what clubfoot was until it became a part of her babies' life. "I was scared and I was very sad and emotional but kept all that in and didn't share my feelings."

The casting started off as traumatic but soon became reassuring for the family since they could see change- with each cast, and understanding that their precious little girl wasn't in pain and didn't know any better.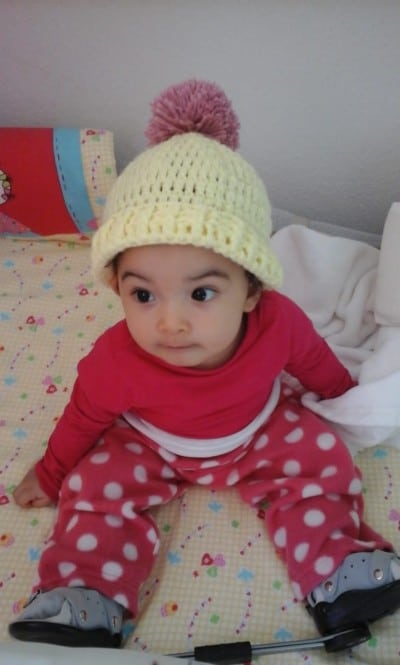 What advice can you give parents whose child is born with clubfoot?
"It's not an illness that cannot be cured. It's not an irreversible deformity and moms don't feel guilty it's not your fault. Be patient, it will be right in no time. Listen to the doctors about how long to wear booties and don't skip times but also listen to your own instinct. It's a lot of work and time but in the end your baby will have the best feet to tickle. The journey is long and sometimes very emotional but be strong and keep going.you'll be in the light at the end of that tunnel sooner than you think."
How did you hear about Steps?
"I was doing a lot of research on clubfeet but all the information was related to overseas then when we consulted a doctor at the hospital after my daughter had her tenotomy surgery he mentioned Steps because we asked about places we could get the boots and bar from as the hospital was very pricey and my medical aid wouldn't cover it. We made contact from there."
How did Steps and the clinic (doctors) help you?
"I'd like to say that STEPS was wonderful. They explained everything from how the boots and bar worked to when to start looking at getting up sized booties and what kind of socks to buy if necessary because the grip socks were a little pricey, but worth it. What helped me personally more than anything else was knowing that another mom, who has been through the very same journey we had only just embarked on, was the founder. This was very comforting to me in a way.
Reading Karen's book to my daughter every night helped her see the fun side of what the booties were and why she had to wear them. She was so little and to her it became normal. It helped to show her there was nothing "wrong" with her. The illustrations are so cute and fun and easy for very little children to relate to and she still reads this book.
Steps made us feel like normal parents and not parents of a child with a disability. Knowing Karen and Alex's story made it that much more personal. It felt like everything we did with STEPS was from the heart♥️ so we will always be eternally grateful for all their help, their guidance, their patience with us and the compassion shown towards us as very inexperienced and scared, first time parents to our baby with her "special foot"